---
---
Visit My Other Dedicated Arcade Video Game Pages Here
---
Ms. Pac-Man Video Arcade Game of 1981 by Midway & Namco at www.pinballrebel.com
---
A very good follow up to the original Pac-Man. Women love this game and many can still be found on location. Often they are found
in laundrymats. The object is to eat the dots and ghosts before you are eaten.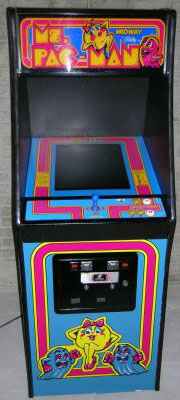 This game has classic artwork in bright colors.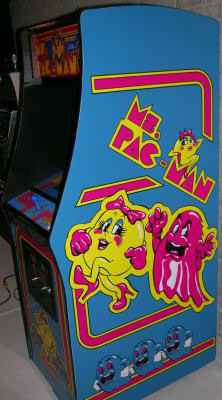 The side art shows Ms. Pac-Man running from a ghost..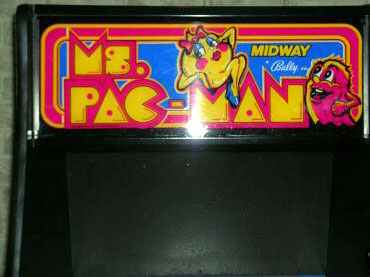 The marquee and front art almost glow.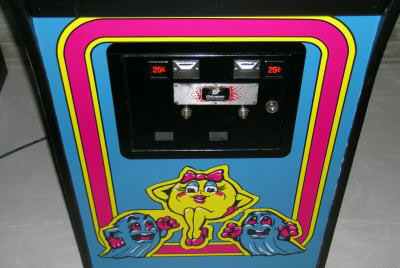 Coin Door View.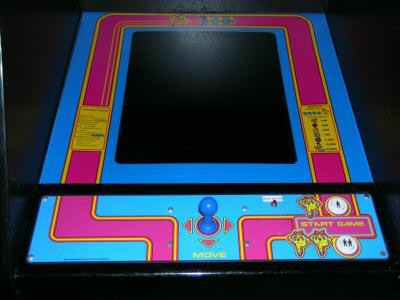 Control is by one four way joystick.

Above Photos Courtesy of bdc5574
---
Buy A Machine Like This Or Parts

---
See Discussion of Ms Pac-Man on rec.games.video.arcade.collecting

---
---
Free Title Strips - Pinball Instruction Cards - Jukebox Archive - Your Nostalgia Stop! - Classic Soda Advertising Pinball Pages - Drive In Theaters - My Gameroom - Ken's Resume - Links - Fortune Tellers - The Cave - View Guestbook - Sign Guestbook - Wanted To Buy - Wanted To Sell - Gameroom Chat - Ken's Poll -
I could really use a small donation to keep this site running. If you care to help click the button below to send $5.
Back To Kens Homepage

---