---
---
Visit My Other Dedicated Arcade Video Game Pages Here
---
Track And Field Arcade Video Game of 1983 by Centuri at www.pinballrebel.com
---
A very good game with great sound and classic gameplay.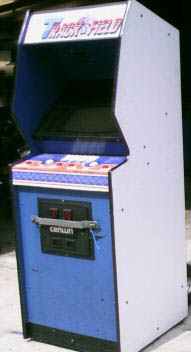 This game has been stripped of side artwork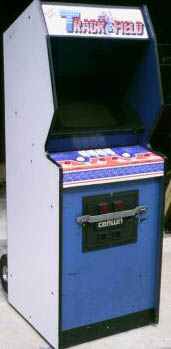 The object of the game was to compete in several events including the
100m dash, long jump and javilin throw, 110m hurdle, hammer throw, high jump.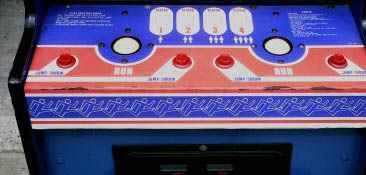 Simple control panel had two button to run and one to jump/throw. Many games were converted to
use track balls because the switches kept wearing out! The way to play was with a pencil balanced on your finger
and then tap one side. The other side of the pencil would recoil and press the other button for you!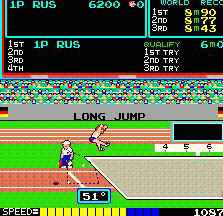 Screen shot of the long jump

Above Photos Courtesy of Lee in Winston-Salem, North Carolina
---
Below Photos Courtesy of taky123 in Vineland, New Jersey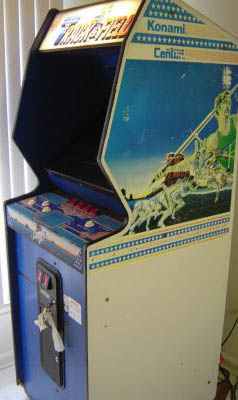 Here you can see the side art. The game tried to make use of the fact the 1984 Olympic games were held in the US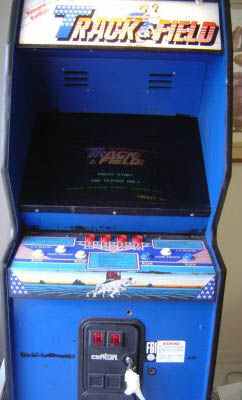 Great shade of blue for the cabinet. Here you can see the original buttons.

---
Buy A Machine Like This Or Parts

---
See Discussion of Track And Field rec.games.video.arcade.collecting

---
---
Free Title Strips - Pinball Instruction Cards - Jukebox Archive - Your Nostalgia Stop! - Classic Soda Advertising Pinball Pages - Drive In Theaters - My Gameroom - Ken's Resume - Links - Fortune Tellers - The Cave - View Guestbook - Sign Guestbook - Wanted To Buy - Wanted To Sell - Gameroom Chat - Ken's Poll -
I could really use a small donation to keep this site running. If you care to help click the button below to send $5.
Back To Kens Homepage